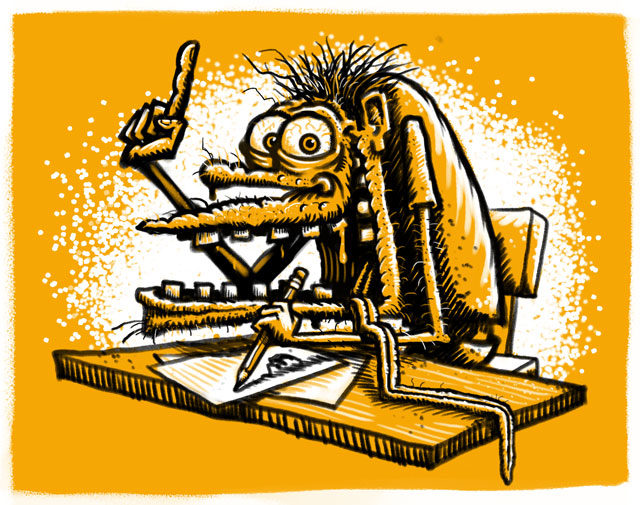 George Coghill is a freelance cartoonist and illustrator specializing in cartoon logo design and cartoon character mascot design. Hire me for your custom cartooning project!
In addition to my cartooning & illustration portfolio, the blog is packed with updates on my artwork as well as software tips, product reviews, workflow productivity ideas, and digital cartooning & illustration techniques.
Be sure to visit my info pages Cartoon Logos 101, How I Draw Cartoons, Client Testimonials, my Podcast, my Merchandise, and of course the FAQ.
History:
My path to becoming an artist was pretty direct — I was already on it at a very early age. I feel as if I have no other choice sometimes. I think that's probably for the best. 
As a kid I was inspired by MAD Magazine (artists such as Mort Drucker, Sergio Aragones, Al Jaffee, Jack Davis, and Don Martin  were my faves), Ed "Big Daddy" Roth and Odd Rods lowbrow monster art, Star Wars (of course), and trips to the local Cleveland Art Museum (I love the armory room). A little dose of Hello Kitty in there too if I'm being honest.
As I got older, I became enthralled with other artists such as Robert Williams, H. R. Giger, Charles Burns, Daniel Clowes, Alex Grey, Jim Woodring, Jimbo Phillips, and probably many more I am forgetting. 
After graduating in 1995 with a fine art degree from Kent State University, I took out a student loan and bought myself my first Macintosh computer (PowerMac 7100) to teach myself how to use Photoshop and other design software. I also began to teach myself how to code HTML to build websites. Yes, in a text file!
I remained in Kent, Ohio for a cartooning gig with a local start-up. When that fizzled out, I took the cartooning portfolio work I'd created there and with my growing HTML coding skills, and built my first freelance illustration website portfolio back in early the 2000s.
To be honest, I never really had any intention of becoming a cartoonist. I wanted to be a heavy metal album cover artist (yes, I thought that was an actual job when I was in high school). I still create a lot of stuff that would qualify for that genre. But back to the cartoons…
After a few years of freelance cartooning and part-time graphic design work at the Cleveland Free Times, I was fortunate to build up enough freelance momentum (as well as pay off my debts and save up some emergency money) to go full-time as a freelance artist in 2009, and I've been surfing that wave ever since. 
In 2014, my first Kickstarter campaign for the Bigfoot Patrol embroidered patches led to what was to become Monsterologist, my own brand of artist merchandise (monster-themed embroidered patches, buttons, stickers, and t-shirts). 
Monsterologist took me down the path of setting up my artist table at events all over the country (from Bigfoot conferences and UFO festivals, to craft shows, to art fairs, comic cons, and horror conventions), which I continue to do to this day, along with the freelance work generated from this website. 
When I am not drawing or traveling, I am usually riding my bicycle and thinking out loud to myself, teaching myself to cook, theorizing on the Great Pyramid, or analyzing lots of data in spreadsheets (seriously, I love those things). 
Connect with me:
Publications
Videos
How I Work
If you're curious about the tools I use to create my artwork, I sketch on paper, but do the bulk of the creative work on a computer using graphics software for digital sketching as well as for final vector art.
And of course I use a graphics tablet to do all of this.
You can read an overview of how I create my cartoon illustrations here. 
Press
Interviews: