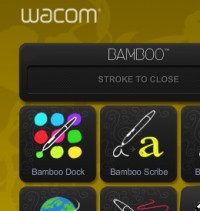 Wacom has a new online service and free companion software tool download called  Bamboo Dock. The apps available so far are basic — a drawing/doodling app, a map you can draw on and a handwriting recognition app. The others I couldn't demo as a Wacom Bamboo serial number is required.
The online service is a sort of virtual sketchpad, allowing you to doodle, draw, scrapbook and upload files to "spaces" which are like collections, and inside of each one can add multiple canvases with different contents, themes and such.
I am having a hard time imagining a use for the online portion, but the companion apps look like they might be handy and should be interesting to see how things progress as new tools are developed/released.