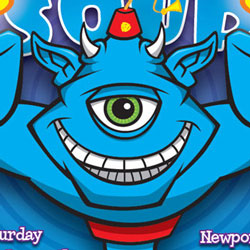 I recently completed a concert poster design featuring a fez-wearing cartoon genie mascot character for Nashville, Tennessee roots-rock jam band Vinyl Soup.
I have been working with guitarist Andrew Hooker for some time now with t-shirt designs, a logo redesign, concert posters and other promotional materials for the band.
Recent gig poster design work for Vinyl Soup had started to go down a path of design-only work. Andrew initially contacted me for a t-shirt design for the band, and his initial interest was in my cartooning/illustration work.
Starting out on concepts for this poster, I was again working on a solely design-oriented approach, and before I got too far along I dropped Andrew an email to see if going back to an illustrative style would be cool with him. It most certainly was, so I set about to work up a theme for the poster.