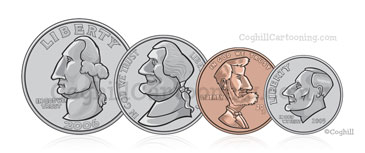 My previous post about those vector cartoon coin illustrations which didn't make the cut over at iStockPhoto has a pleasant update – for some reason, they have been accepted! I put a pretty good amount of time on these, as they were a pet project of mine for years and I have been itching for a reason to get off my lazy butt and create final vector art of these cartoon coins. I'm glad I finally did. Move your mouse on over and check out (and download) these cool cartoon coins (direct links below)! And don't forget to give me some rating feedback (5 stars of course).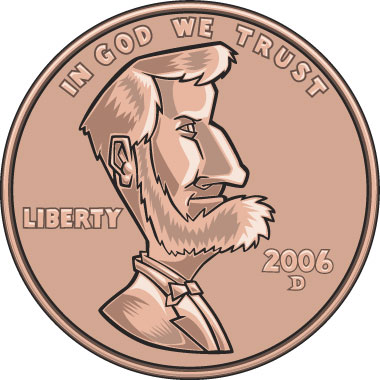 So I have recently wrapped up a series of very fun new cartoon illustrations for my initial upload as a contributor to iStockPhoto. (more art on the full article page – link below).
All artwork has to go through a mysterious screening process to be accepted, which is kind of cool – it keeps the crap out and makes sure the end users get quality work to use for their projects.
The not so cool part is that I have been rejected, on grounds of needing a model release. The bizarre thing here is that the artwork is a series of cartoon versions of United States coins, which obviously feature human faces (the U.S. Presidents that are featured on the coins – Abraham Lincoln, Thomas Jefferson, Franlin "FDR" Delano Roosevelt and George Washington).