Clients often want to print the artwork I create for them on t-shirts. Typically, they are unaware of the limitations of traditional screen printed techniques and the trade-off in quality when it comes to digital printing methods.
Screen printing can create some amazing designs, but unless you are buying thousands of shirts, the cost can be quite high to achieve those amazing multiple-color results. Digitally-printed shirts have no color limitations, but often the iron-on feel of the printing isn't desirable.
Screen Printing
Screen printing is kind of like a stencil: each color in the design is photographically etched into a "screen" (a piece of fabric stretched over a frame). The t-shirt is laid flat,  a screen is placed in precise alignment on the t-shirt, and ink is drawn over the screen.  This is repeated for each color in the design. Each color has a screen. The areas where the stencil is "etched" allow ink to pass though, and it is printed on the t-shirt.
Typically, a screen printed t-shirt design is limited to 1-4 colors. This limitation is typically cost-based, as each additional color (and therefore additional screen) increases the cost-per-shirt of the design. The color of the shirt itself can be employed in the design, eliminating the need for one of the inks/screens and therefore reducing overall cost.
It's always best for the artist to know up-front that the final design will be screen-printed on a t-shirt. Often the design will be created and colored with this in mind, much differently than if one were to just create a full-color image for use in traditional printing or in web usage. Designing and illustrating limited-palette artwork specifically for screen printing is an art form in itself.
The Buddha Frog design below was an original t-shirt illustration created with a limited palette in mind before the sketches were even done.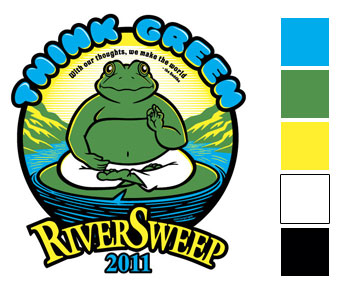 Note that this artwork was printed on a blue t-shirt, so the 4 colors actually printed were green, yellow, white and black.
Compare this to the full-color artwork below, which has 12 colors in the artwork: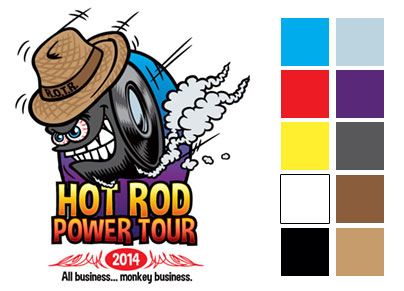 In this case, there are also gradients which need to be handled with a process using what are known as halftones.
The artwork below by Ed "Big Daddy" Roth is a great example of a 4-color t-shirt print that was not designed to maximize the limited palette of 4 colors before creating the artwork. This is a good example of what to expect if you are reverse-engineering full-color artwork after the fact in order to print with the screen printed method.
The yellow, red, blue and black are obvious, and the halftones in the "Mustang" letters give a good example of how a gradient can be included.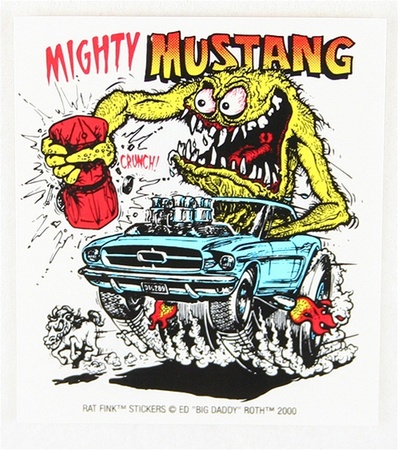 Digital Printing
In general, digital printing is more like an iron-on approach. The artwork (or photograph) is printed on a piece of clear plastic, with a printing method similar to the inkjet printer on your desk. The artwork is printed on a special plastic film, and then heat-pressed on to the t-shirt. This printing technique allows for basically unlimited colors, but the final result has an iron-on feel.
Screen Printing or Digital Printing?
The technique you choose comes down to your aesthetic preferences and some technical limitations of each method. If the look and feel of the iron-on approach is not something you want, you need to go with a screen-printed approach. In that case, you need to determine your budget for the printing and determine how many colors you can afford to print. Typically the more you print per run, the lower the cost per shirt.
If you are printing less than 12 shirts for a one-time use, then  digital is probably the way to go. If you plan on printing dozens, hundreds or thousands of shirts, screen printing will be something you want to look into. The high volume will allow you to add more color screens with little increase to the overall cost.
Screen printing is considered higher quality, but the technique has limitations. That said, if you have the money they can print near-photographic quality. But the cost per shirt is outrageous unless you are producing these in very large quantities.
Regardless of the print method you prefer, it's always best to talk to your artist before beginning the project so they know exactly what your plans are.