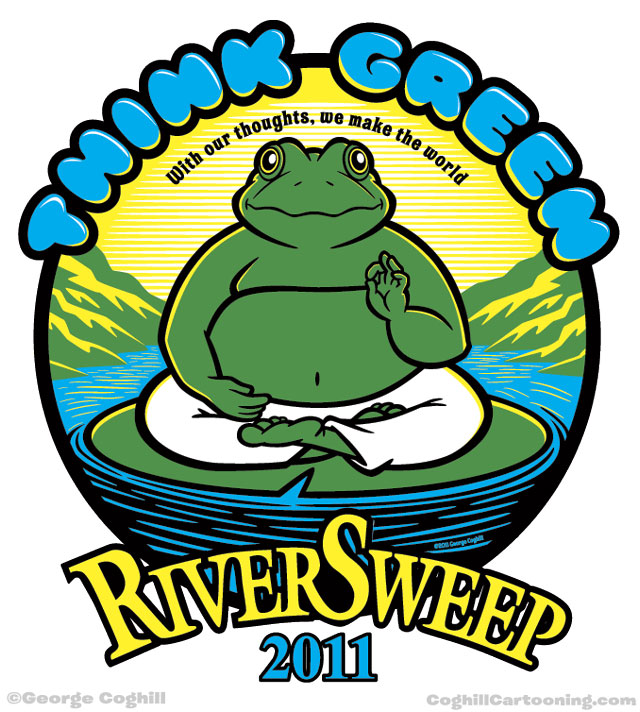 This t-shirt design of a cartoon frog as the Buddha was created for the Ohio Canal Corridor's annual River Sweep event. The event is held to clean up the banks of the Cuyahoga River along the Ohio Canal park portion of the river. T-shirts are one of the gift packages handed out to volunteers.
I've been illustrating and designing the River Sweep t-shirts for a few years now. Each year the OCC's director gives me a theme within which to work. This year was a Buddha/"green" theme.
The key to these designs is to make them work well on a screen-printed t-shirt, which means limited color palette, flat color areas, and lots of contrast.
In the past my t-shirts were more of a typical illustration converted to limited colors, but this year I wanted to push myself to create a design that was tailored for screen printing. I chose 4 main colors (black, yellow, green and blue) and really pushed myself to create a design that looked great but also fit the constraints of the screen printing process. I'm really happy with the final art and the client told me this was a very popular t-shirt with the volunteers.
The final t-shirts were printed on a light blue t-shirt, which looks great. I had expected them to use one of the colors of the design as the t-shirt color, but they went the extra mile and it was worth it.
I also did the print design for this year's River Sweep promotional postcards: