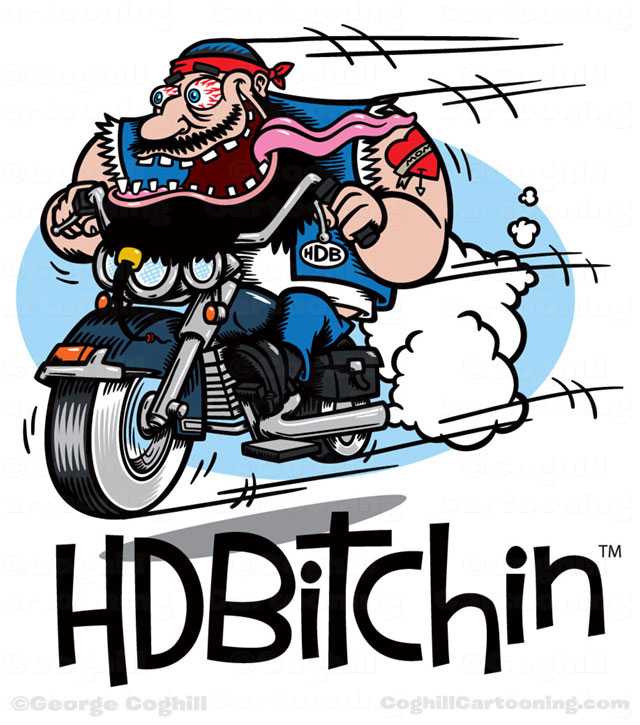 Cartoon biker hot rod motorcycle cartoon logo for Harley-Davidson rider forum HDBitchin. Alternate horizontal version of the logo and forum header art below.

The client was looking for a classic "biker dude" riding a Harley, drawn up in classic Ed "Big Daddy" Roth Rat Fink style. As soon as the client contacted me, I knew exactly how this was going to look. I also couldn't recall every seeing a biker dude in this Roth style, so I was looking forward to creating the character.
The initial sketch was pretty close to what you see here in the final art. We braided the beard so the distinguishing headlamps could be seen, and I had to fix some technical details on the bike due to having flipped the reference image (accuracy in the hot rod details is very, very important in these types of cartoon illustrations!).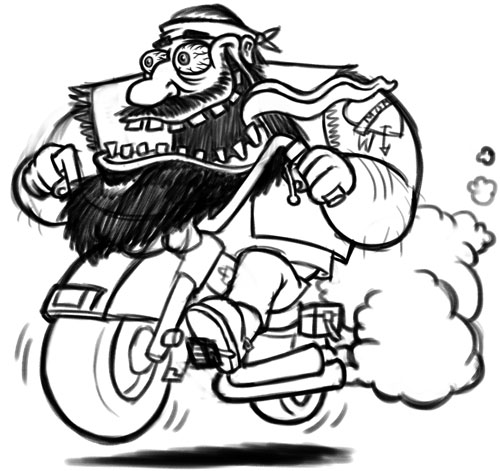 We did some variations on the location of the foot so there was more of the engine showing that didn't work, but as I was finalizing the sketch I realized the front wheel wash't placed correctly and moving it forward allowed us to keep the foot position I liked best and also gave us room to show off the engine.
The client loved the final artwork, and doesn't get better than a client who is actually anxious to pay the balance due on a project — and glad to do so!
Great project, great client. It's always a bit of a bummer when these ones are wrapped up.