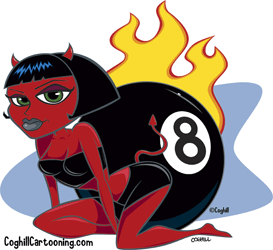 Starting today, my PSP Tubes licesning agreement with MyPSPTubes.com for pin-up art is now live with the availability to all you PSP tubers and MySpace graphics artistes of four initial sexy & cute devil girl pin-up illustrations.
The initial PSP tube cartoon illustrations feature an updated version of the cute cartoon pinup devil girl on my cartoon illustration portfolio site, as well as 3 additional devil girl pinup illustrations that have been in my personal stash.
To be honest, I had to do a bit of research when contacted by MyPSPTubes (Sticker Chick actually) for the licensing argreement. There's a brief explanation of what PSP tubes are on their site, but the basic gist is that they are images available to artists who wish to create signature image banners for message board posts and MySpace graphics. The licensing allows the customer to have access to quality versions of artwork for use in their banner graphic creations. The cost is very reasonable as well at $2.00 per image, with bundles available as well.
There are some great artists working with MyPSPTubes, and it's great to see my art up there with other very talented illustrators.
Stay tuned for more PSP tube art to be available shortly, including more devil girl pinups and some other fun cartoon pinups I have been sketching up lately.
Head on over to MyPSPTubes and get yourself some cute devil girl pin-up art!
UPDATE: I am no longer contributing to MyPSPTubes, but you can get yourself a cool black t-shirt with the cutest devil girl on the 'net over at Zazzle.com. There are three black t-shirt designs with this sexy cartoon pinup devil girl available. head on over and grab yourself one now!