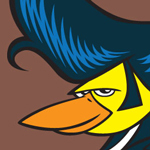 I just finished up a t-shirt illustration – 'The Hairy Canary' – for mail-order/catalog company What On Earth for their pub t-shirts line.
The basic premise of the t-shirt designs are as follows: the artist is given a choice of bar/pub names to choose from, and from there a design is worked up to go with the name. I believe all the bars & pubs are actual places, but these aren't officially sanctioned or anything.
From the list I was given, the name 'Hairy Canary' just jumped out at me and I knew it was a theme that would spark a cool illustration.