Another red pen cartoon sketch. This time it's a whiskey drinkin', bone clankin' skeleton!
This little skeleton cartoon sketch is most definitely going to become a full-fleged illustration at some point in the near future. He's perfect for a t-shirt.
UPDATE: The Drunk Cartoon Skeleton t-shirt is now available!! And in glorious red ink, contradicting what I say in the next sentence.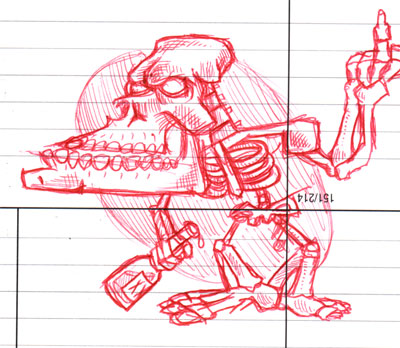 Most likely the red pen will not be used (and no, I will make no references to Red Skelton here. Too obvious.)
Again, the red pen effect came about from the fact that one of my sales rep buddies at the Free Times in Cleveland likes to "borrow" pens from me from time to time. Seems no one wants a red pen, although I find uses for them.
What's the deal with the black lines? I started this doodle out on a page ripped from one of those giant wall calendars. I hate wasting paper, so when I rip off each month I leave it on my desk to sketch on.
I have always, since I was a very young child, been fascinated with skeletons, and drawing skeletons. I was the kid who had a Halloween theme to every holiday project in grade school. I need to dig some of that stuff up someday. Of course, back then I wasn't putting whiskey bottles in the hands of my monsters. In those days it was beer cans :)
Man, I love that angry drunk skeleton! Can't beat a bunch of bones with a bottle of booze.
UPDATE: Recently stumbled across this: skeletal systems of famous cartoon characters. I saw something like this in MAD Magazine years ago, but the DaVinci-esque quality & parchment paper is a nice touch.