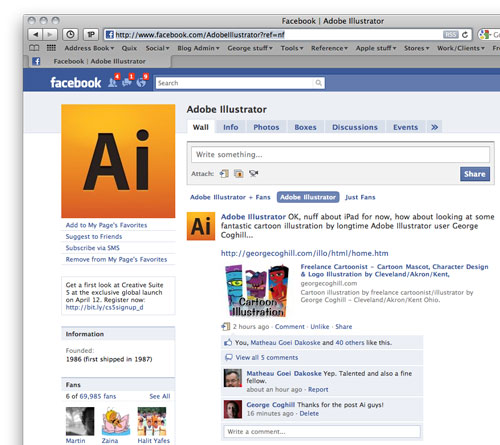 Just a quick note to let my readers know that the Adobe Illustrator team featured my artwork on their Facebook Fan Page today.
As the regular readers of my blog (and my Twitter followers) know, I'm a big fan of Adobe Illustrator since way back when I first learned to create vector art with Adobe Illustrator 8. Back then I think the Pen tool was a quill pen!
Head on over to Facebook and give the post a big 'ol Facebook "Like", and while you're there be sure to stop by the Coghill Cartooning Fan Page on Facebook and become a fan as well!
Big thanks to the the Ai team for posting the link, and very much looking forward to what those guys have been brewing for Illustrator CS5!