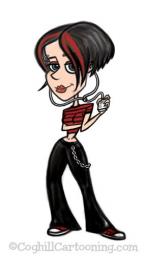 This cartoon sketch of a cute indie rock/alternative rocker girl is one of a series of cartoon characters I am working on for a current project. She went through quite a bit of revisions in look, dress and age – but the final came out perfect.
Earlier version had her a little too old and road-weary – I thought we were going for a more 'edgy' character but the client wanted a younger, cuter version. The iPod, chain wallet and Chuck Taylor sneakers were a must.
I wasn't too sure on the hair stripes, but the client liked them and so they stay. The entire project involves a large group of characters, so she may get some final tweaks once the entire 'family' of characters are sketched out to maintain consistency, but for the most part I think she's close to final.
The sketch was scanned into Photoshop and refined along with color added. The initial sketch I drew had the head a bit too large in proportion to the body, especially when compared to the other characters already approved. I think these proportions work better anyways – the details from her body don't get lost, and the head is just large enough to be cartoony without being too cartoony.
She's the female 'companion character' to the cool guy/rocker dude cartoon character.