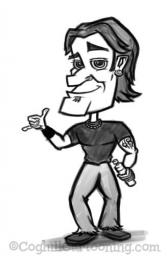 This cartoon sketch of a trendy 'cool guy' rocker type mascot character was created for a current project. He was to the the male 'companion' character for the cute cartoon indie rock/alternative rock girl created for the same project. While I love how the head and face came out, I am not so pleased with the body – could use a bit more flair. This is an initial working sketch, so had the client approved that would have been edited. The client wanted to go in a different direction with him, so he's on the reserve list for perhaps another project.
I was under the impression the character was to be a sort of MTV rocker type, but the client wanted more of a pretty-boy look to the character. The character description included earring, tattoos, long-ish hair as well as trendy facial hair (hence the 'soul patch'). I thought this guy was right on, at least the face/head, but the character was not what the client was looking for at all. The revised character is still in the concept stage waiting approval/revisions at this point in time.
The initial sketch was done on paper and pencil, scanned into Photoshop and then refined and quickly shaded using the Wacom tablet.