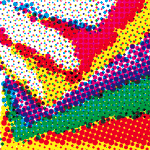 Adobe Illustrator plugin Phantasm CS offers in-line embedded image editing, color checking and separations, duotones and vector halftones, filters and live effects color adjustment. Looks like a pretty great plugin for Illustrator users who do a lot of bitmap image placing.
Personally I do any layout work in InDesign, and not much of my work requires having bitmap images in the Illustrator file outside of placing a template for tracing. However, the halftone and separation features look like they might be really handy. 
There's a free trial available, which lets you demo all color control and creative Filters, Output Previews, full Separations and in-line Embedded Image Editing. The trial version includes a Brightness/Contrast control as either a Filter or live Effect. This Brightness/Contrast control trial does not expire and any Brightness/Contrast live Effects saved with your file remain completely editable in both the Trial and full version.
The plugin comes in three levels, with the basic "CS" plugin offering typical image adjustments features (Levels. Curves, etc.), Â the "Designer" version adds primarily halftones & duotones, and the "Studio" version primarily adding the separation tools. pricing is $45, $95 and $175 respectively. If these tools can add to your productivity, they look to be well worth the investment.
 I haven't installed the trial just yet, but plan to do so shortly and will post back with my thoughts. 
via The Graphic Mac