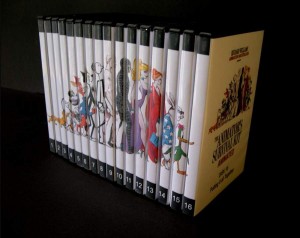 This Animator's Survival Kit DVD set from Oscar-winning animator Richard Willams looks like a great resource for those animators out there. Personally, I do not have the patience for animation, but it's fascinating to me.
This DVD set is a companion to Williams' highly-rated Animator's Survival Kit book. The site doesn't seem to indicate if the book is included with the DVD set, but it seems not to be.
Richard Williams was awarded two Oscars for the animation on "Who Framed Roger Rabbit". He directed and designed Roger Rabbit, Jessica Rabbit, Baby Herman and all the new characters for the Walt Disney/Steven Spielberg production.
The set isn't cheap at £634.04 (or about $1,252.42 for us U.S. folks as of the date of this post).
From the site:
These DVD's are for professionals and students and cover the knowledge of the underlying principles of sophisticated animation which apply to any style or approach to the medium, including computer, classical, games, stop motion and internet animation.

The Animator's Survival Kit – Animated is about how things move, and specific work methods used to make characters live, breathe, think and give a sustained commanding performance. Williams demonstrates his points with drawing, performance and over 350 specially animated examples – many from his best-selling book.