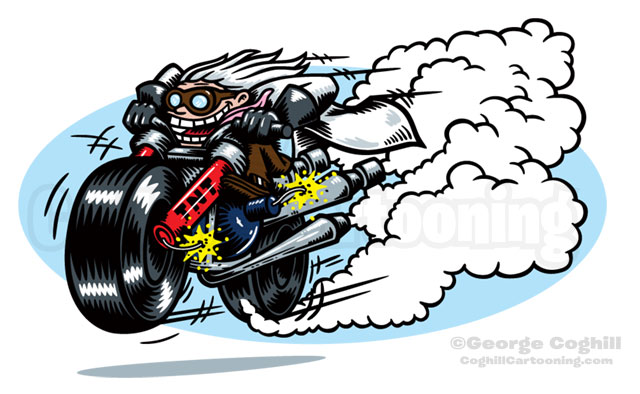 This mad scientist motorcycle hot rod rider character was created for a custom bike builder and racer looking for a mascot character for his amateur motorcycle racing team, "Suspect Device". The name is a phrase for "an unknown item that may go BANG at any moment" as the client worded it.
The client aimed to use the character and artwork to seek sponsorship for his team by "advertising (and celebrating) the fact that they have very old and dangerously damaged machinery to race on and are aspiring to come second-to-last at best" — quite an interesting marketing angle.
The basic client request was to create "a motorcycle racer riding a time-bomb of a bike. I have visions of circular ACME style bombs with fuses sticking out the top as wheels and maybe a bundle of dynamite with a ticking clock strapped to it as the main body of the bike/engine. A helmeted figure in black leather and helmet should ride the 'bike' but not be the central focus. The 'bike' is really the logo/mascot."
As I got to work from these instructions, this vision of a mad scientist/garage gear head hacker type came to mind. The sticks of dynamite as the front forks made the whole sketch start to bring itself to life.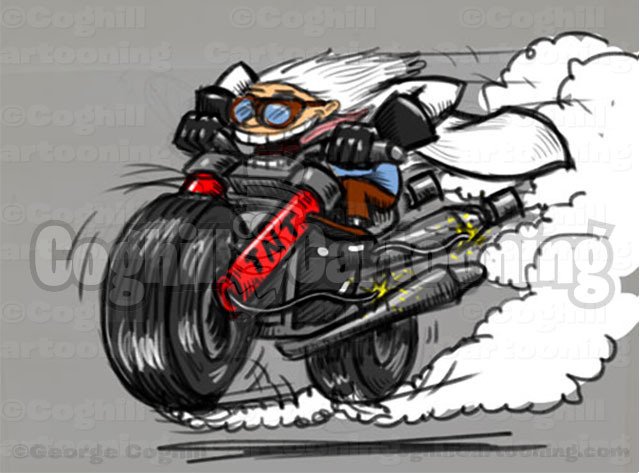 The client loved the concept, and I wanted to push the dangerous aspect a bit further.
The top two sketches below show a variation with the handlebars as the TNT plunger, and the exhaust pipes as missiles/rockets. The client also requested the front tire smoke be removed. In the end, the client felt as if this made the bike look a bit too dangerous and risky and opted for the initial concept.
For the bottom two sketches, I shortened the fuse (both for the "dangerous" factor and for the design) and bumped up the yellow sparks to make them really stand out.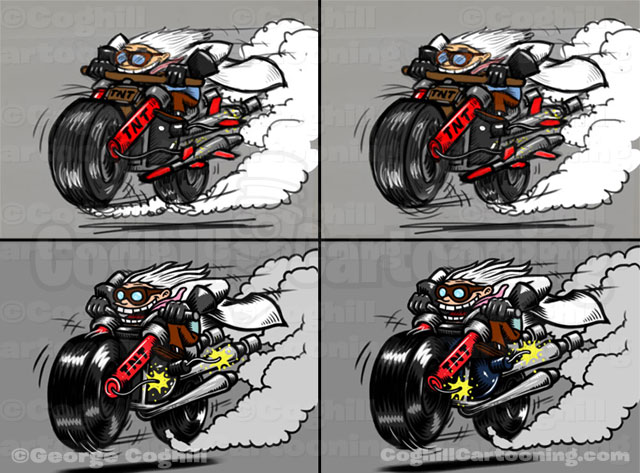 The client also wanted to see the bike without any tire smoke at all, which you see below. In the end, he opted for keeping the tire smoke.
For the final color vector art, I went back into the sketch (not shown) and filled out the trailing smoke which you can see in the final art at the beginning of this post.
The client loved the result, as did I.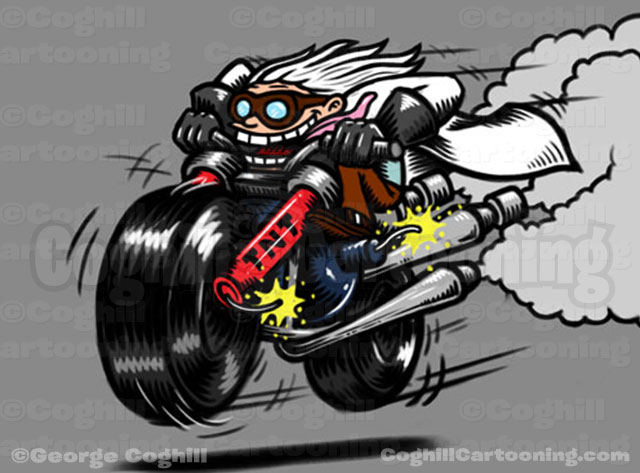 This character art is featured in the Adobe Illustrator CC WOW! advanced vector art techniques book for which I contributed some sections.