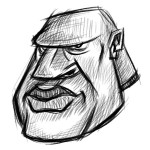 Cartoonist Mike Foran has a couple of cool number 2 pencil Photoshop brushes – free to download – that I stumbled across the other day. For some time now I have been on the casual lookout for a Photoshop brush that mimicked a regular-ol' number 2 pencil. Seems Foran was on that line of thought as well.
Foran's brush has a nice line quality, varied from thick to thin based on your Wacom tablet pressure, and has a slight angle similar to a flat-worn pencil tip.
The brush also has a nice light feel at light pressure, and darkens quickly with pressure added. The texture and look of the brush marks/pencil lines is perfect.