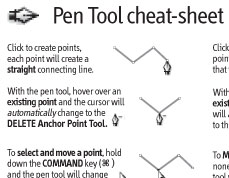 Here's a cool little idea from the geniuses at CreativeTechs.com: "cheatsheets" for Adobe software that are designed to print on a 3×5 index card, complete with space reserved to punch holes for a binder. Designed with the GTD/Hipster PDA crowd in mind. And they're free!
This link is to the PDF cheatsheet for the Adobe pen tool, since most (or all) of it's features work the same across the Creative Suite. A real cool visual reference guide, and just one in a series of cheatsheets for Adobe apps as well as other computer and Mac related info that you just sometimes need at your fingertips.
Looks like they are just starting out with these, so be sure to subcribe to the RSS feed and collect 'em all!