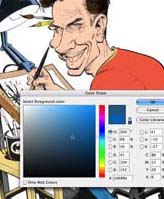 If you aren't familiar with cartoonist Tom Richmond, make yourself familiar. This guy's work is absolutely amazing. Very much in the style of Mort Drucker from MAD Magazine — only taken to the extreme. Not only is his cartooning & caricature style excellent, but his color work is also phenomenal. Tom graciously has taken the time to outline exactly how he digitally colors his artwork in Photoshop in a juicily-detailed three-post tutorial/how-to series on his cartooning blog.
I have included links to all three tutorials here as Tom's blog entries for each do not contain links to the other tutorials, and his main pages don't use the excerpt feature so the full content of every post is on the main page/pages.
Also, be sure to click on the image of the Photoshop Color Swatches palette on page three — Tom has made available for download one of his recent color palettes for you to use.
Interestingly, Tom still inks the artwork by hand, but does all of his coloring in Photoshop. I am wondering how long before he makes the move to Adobe Illustrator for the inking (or if he ever will). Seems a guy with the talent he has should be able to get some good brushes going in Illustrator and just go all vector for his ink work. Needless to say, these tutorials only cover the coloring in Photoshop, and not the inking stage.
The great part about Tom's working technique in Photoshop is that he keeps everything very basic. As long as you have a general understanding of Photoshop (Layers, Layer blending modes, Brush tools) you're all set. Oh, he does recommend a Wacom graphics tablet. Tom has one of the über-tablets — the Wacom Cintique — but most any graphics tablet are fine. Personally I have the Wacom Intuos3 6×11 graphics tablet, which is awesome (see my Wacom graphics tablet review).
And be sure to browse around Tom's cartooning blog for other great stuff. He has a lot of great resources on his website.
Digital Photoshop Coloring Tutorial, part one: Scanning the art


Digital Photoshop Coloring Tutorial, part two: Applying Base Color

Digital Photoshop Coloring Tutorial, part three: Rendering With Washes