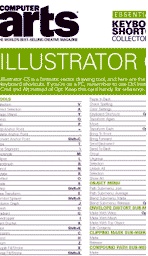 A set of free, printable keyboard shortcuts cards for Adobe Illustrator, Photoshop and more are available for download over at ComputerArts.co.uk.
The set includes keyboard shortcut cards for Adobe Photoshop, Adobe InDesign and Adobe Illustrator CS, Macromedia Freehand, Cinema 4D and 3D Studio Max. These are CS1 versions, but from what I can gather the shorcuts should be pretty much the same for the newer versions. Not too sure about the Macromedia apps (which are now Adobe apps) as I have never used any of them.
As anyone who has read this blog can tell, I am a huge keyboard shortcut junkie, and you should be one as well. I cannot even begin to emphasize how much knowing these will enhance not only your pleasure on using graphics software (and software in general), but how much of a marked increase in productivity you'll see.
I cringe in geek pain when I see a fellow Photoshop or Illustrator user laboriously hauling their mouse over to the Tools palette, or even to the menubar for anything but the most arcane of Menu items.
Download. Print. Learn. Kick massive butt.
See also:
• Annotated Keyboard Graphic With Photoshop Keyboard Shortcuts