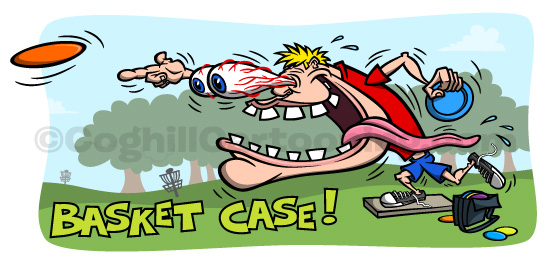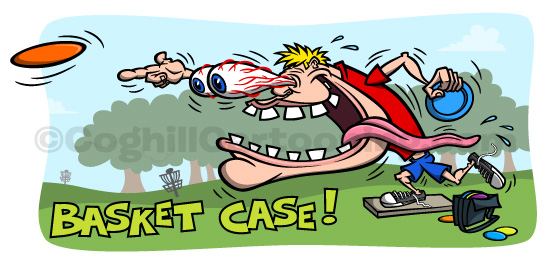 "Basket Case" is a new t-shirt illustration design I created featuring a wild-eyed disc golfer cartoon character in the Kustom Kulture/Odd Rods/Ed "Big Daddy" Roth style — complete with veined eyes bulging out of the head, a wild and crazy grin with an exaggerated, wagging tongue dragging out of the mouth.
Available for purchase — and customization — over at Zazzle. Click here to get yours now!
Disc golf is something I am a huge fan of, and I wanted to bring a bit of fun and cartoon attitude to the sport. Many of the shirts or designs I see available are very "hippie" based — a loose scribble, or tie-dye related artwork. Perhaps in some areas disc golf is popular with those sorts of folks, but all the courses I have played in the Ohio/Pennsylvania area (and I have played a lot of them) I have yet to see a hippie myself.
Typically the demographic is all over the charts, from your "Average Joe" to grandparents with grandkids, teenagers just goofing around to nuts like me who take it a bit more seriously. Disc golf is a great sport in that anyone can play as long as they can throw a Frisbee, the overwhelming majority of the courses around the United States (and the world) are free to play, and the equipment is very inexpensive. You can even use a regular ol' catch Frisbee, no need to buy the specialized discs.
If you haven't heard of — or yet played a round of — disc golf, I highly recommend giving it a go. Head over to Disc Golf Course Review for an extensive database of courses throughout the world, including player reviews of the courses, photos, upcoming events and tournaments and lots more. As I mentioned, there's probably a free course near you, and it's easy enough to bring your kids, parents, grandparents, wife, boyfriend — anyone can play this sport.
You may also want to check out the official Professional Disc Golf Association website, PDGA.com. Yes, there's a professional competition-level to this sport and tournaments are taking place all the time, all over the globe.
A special nod to Tim and the members over at Disc Golf Course Review — I ran a poll with my fellow members to get some feedback on the design and the title of the shirt.