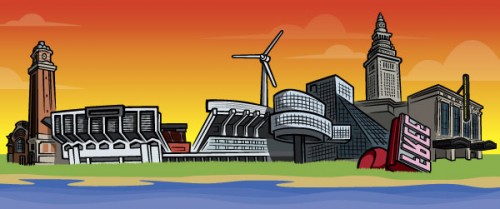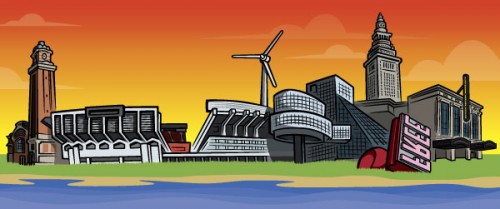 Recently I have been working with Positively Cleveland, the visitor and traveler's bureau of Cleveland, Ohio on some illustration work for their promotional and marketing materials. The publications in which these illustrations were used went on to win awards in the Ohio Association of Convention and Visitor Bureau's 2009 "Middy" awards.
In addition to an extensive series of custom illustrated avatar portraits which I created for them, I also created a stylized illustration of a "greatest hits" Cleveland skyline. Additionally some general spot illustrations were also created. These were all used in the award-winning Positively Cleveland 2009 Annual Report. The award was received in 'Division 4-E – Annual Report'.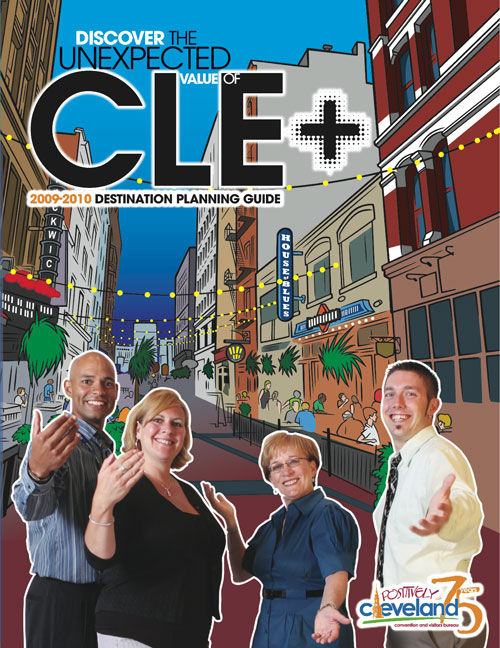 Positively Cleveland was also honored with another award in 'Division 4-D Travel Guide' for their 2009-2010 Cleveland Plus Destination Planning Guide. For this publication, I created illustrated scenes of prominent Cleveland, Ohio landmarks and destination areas. These were incorporated into layouts which included photographic people. I was only involved on the illustration side of things. My illustrations were featured on the cover, the inside front cover, as well as throughout the guide for each major section intro.
Tight deadline, detailed architectural illustrations and a full workload at the time made this a very hectic project, but in the end everything came out great and learning that the client also received awards made the entire process more than worth it. Samantha and Mark over at Positively Cleveland were nothing less than stellar to work with on this as well. And a special thanks to my illustrator friend Scott Thigpen, who helped me out on this project to meet the deadline.
Below are the specific pages from the Destination Guide featuring my illustration work. The client was looking for very loose, abstract depictions of each location.