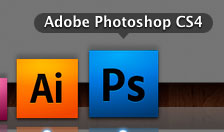 A quick note that as of the posting date, there are a handful of plugins not yet available for the Creative Suite CS4 applications.
The list for me so far includes: all font activation plugins for Linotype's Font Explorer X, "Select Menu" for Illustrator CS4, Canon's Scangear CS plugin to access your scanner from within Photoshop's Import menu, and plugins from developer Worker72a such as the 'Zoom To Selection' plugin for Illustrator.
In my haste in upgrading, I forgot to check for the availability of these, and thought I would pass the info along to others in case you rely heavily on any of these. I am sure the updates are on their way, but for now you are out of luck.
Another reason I like to keep previous versions installed alongside and Adobe upgrades.
UPDATE: I just found this over at the Layers Magazine message board regarding the release of the FontExplorer X plugins for CS4:
We are working on a solution and we hope to release a new product in Q1 and
more information will be coming as it is available.
Let's hope it's early Q1. At least it's being worked on, that's good to know. I have emails in to plugin developers Worker 72a and Rick Johnson (Graffix) on CS4 ETAs for their plugins as well, will update this post as I know more.