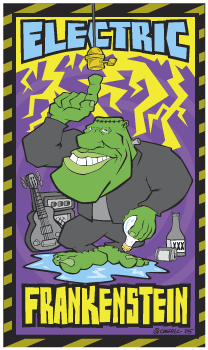 Very soon, Sal Canzonieri of the band Electric Frankenstein will be publishing a massive concert poster/rock art book, and a piece of mine created specifically for the tome will be included. Very cool stuff! Due out fall/winter 2006.
Check out the blurb Dark Horse Books is using to promote (via one of Sal's posts on GigPosters.com)…

This is IT! "A Fistful of Rock & Roll – Real Rock Art for Real Rock Bands", by Sal Canzonieri, author of Dark Horse Book's "ELECTRIC FRANKENSEIN!", is the most definitive and biggest Rock art book ever made, there is nothing like it anywhere!
ONE THOUSAND PAGES capturing the most wild and exciting material created by the TOP 500 most famous and creative artists from all over the world showing their record covers, posters, shirt designs, and more that were done for the music that inspires them. Years in the making, no stone was left unturned to bring together all these greats!
This big fat book not only shows thousands of colorful art by the 21st Century's current best, but there is also a giant historical section that features over 100 years of art trends and artists that have been major influences on the development of modern Rock & Roll art styles. Plus, the book features two bonus sections: an update of Electric Frankenstein art made since the last book and an essay on the modern revival of Rock & Roll through the words of today's exciting Rock bands.
Every great artist that every lived is featured in this giant compendium of Rock Art! From the best Rock artist of the past decades to the best new artists from the last 5 years! Just name them and they are here in this book! The Coolest artists from the USA, Canada, Mexico, South America, Europe, and Japan are all here.
What makes "A Fistful of Rock & Roll" even more unique is that many great artists contributed not only some of their hardly ever seen most rarest pieces, but also EXCLUSIVE art that is ONLY available in this book! Many, many UNPUBLISHED Rock art pieces are shown for the first time EVER! With full artist contact info contained within, this book will be very valuable not only to fans and collectors of Rock Art, but also to Art Gallery owners, Art Directors, Club Promoters, Rock Bands, and so on. Check out what will be the most talked about Rock Art book, published by Dark Horse Books by fall/winter of 2006.
UPDATE: Although I was told I would, I did not make the final cut for the book.