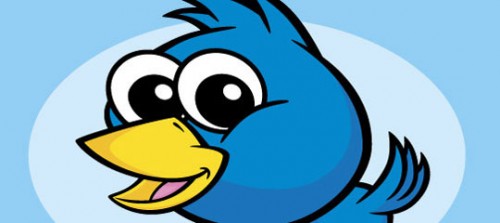 I recently created an in-depth Adobe Illustrator tutorial for the Go Media graphic design and illustration blog GoMediaZine. The tutorial covers the creation of a cartoon character mascot from sketch to final vector art. The character art is a fun Twitter blue bird cartoon character, and the vector art files as well as icons for use on your own website or blog are available as a free download as part of the tutorial.
This tutorial is a good overview of my working process, at least on the creative and software side of things. As I was working on this tutorial, I ran into a situation where I wanted to change the artwork at the vector stage, something I rarely do. In this situation — since I was creating the artwork for myself — I moved on to the vector art fairly quickly so I could get working on the tutorial. As I neared the end of the process, I realized I needed to make a significant change to the character art.
Rather than rework the tutorial, I thought it was a good opportunity to demonstrate why the techniques I use in creating my vector art are beneficial in situations like this. Because of the nature of my vector art creation methods, the artwork can be edited even at a late stage in the creation process with minimal work/time spent. I included this in the tutorial as most tutorials cover what to do, not many cover what to do when something goes wrong. Additionally, I hope it's clear why the techniques I use help one to be prepared in case something like this comes up.
In particular, working on layers, creating your vector objects as distinct objects and keeping your anchor points to a minimum helps to make things much easier as far as fine-tuning — as well as going back and making major changes.
Head on over to GoMediaZone and check the tutorial out for yourself, and drop me a comment with any thoughts, suggestions or tips to help streamline the process.