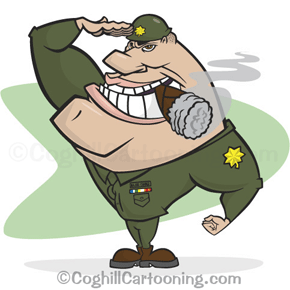 A recent project, "Major Change" was developed for a Canadian client looking for a cartoon character mascot for a promotional campaign. Interestingly enough although it was a Canadian client, they preferred to go with a United States military officer for the iconic quality. Kind of a bummer to think that when people think "military", they think "United States". I guess for some people that's a positive thing. And before this post gets too political…
For some reason I had it in my mind from the initial discussions that somehow the character was to be a gruff bulldog chomping on a cigar, General Patton-style. The cigar remained, but I was set straight on the proper direction early on. Another reason to make sure you have plenty of dialog with your client before starting projects.

The Major here proved to be quite elusive during the sketch phase. I really wanted to exaggerate the thick neck and broad shoulders (as well as the cigar). Getting the exact proportions for the head took a bit of time, but working out the proportions for the overall body-to-head came pretty quickly once I had the head worked out.
The salute had to be tweaked towards the end, I had it a bit too cartoony in the sketches. Made it much more flat and straightforward for the final art. I also needed to do a bit of research on the insignias for the uniform. I believe I had the Sergeant bars initially as they just "read" as military insignia, but it was understood that we'd go with the actual insignia for a Major for the final art.
Can't seem to find the original rough sketches for this guy, otherwise they'd be up on the post.
Final cartoon character is vector art created in Adobe Illustrator.