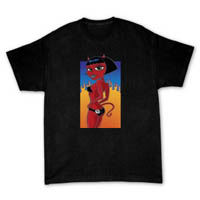 I recently updated my store over at Zazzle to include three cartoon pinup devil girl t-shirt designs. Included in this round are the devil girl with 8-ball bikini, the devil girl with giant 8-ball and hot rod flames, and the devil girl with the risqué hiked skirt.
Also available at the store are stickers and keychains with your favorite devil girl, as well as more t-shirts and other merchandise featuring my cartoon art.
Zazzle offers some great options for their products, including full customization of the t-shirts as far as color, and also the ability to add your own text if you prefer.
Prices are also decent, and the quality of the prints are excellent.
Check out the devil girl pinup on my portfolio site.