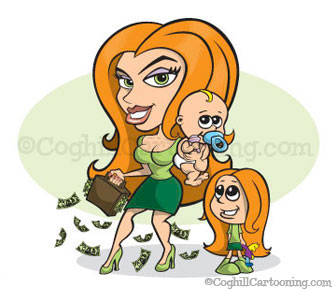 I recently updated my cartoon illustration portfolio site with some recent illustration work. The sexy cartoon businesswoman mom was one of my more favorite recent projects. The client needed a hip & hot mom for a project involving helping moms use the internet to make some extra cash.
I went a bit more reserved with the look of the woman for the first round of sketches, to which I was told "more boob, less briefcase" or something to that effect. And what male cartoonist doesn't want that kind of art direction?
New sketch was worked up and resulted in the final vector cartoon art seen here.