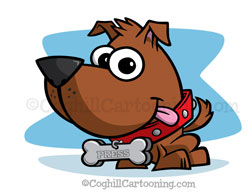 This puppy dog cartoon character illustration was created a mascot/logo for a recent client. His nickname is "News Hound", hence the word "Press" on his dog collar name tag.
The pup went through quite a few rounds of sketches, even before sending "initial" sketches to the client. I had a certain look in mind and wanted to get this guy just right. The proportions were key, as was allowing for the nametag on the dog collar.
If my work area wasn't so unorganized, I would dig up the sketches and post those as well, but I don't usually scan in the rough working sketches unless I sketch in pieces & parts using my light box and then combine later in Photoshop for a template for the final sketch. In this case I worked through a few initial rough sketches until getting the design I wanted, which I quickly cleaned up manually before scanning into the Mac.
The initial sketch sent to the client was approved, and the final doggy art was then placed into Adobe Illustrator as a template layer and the final vector art was hand created using the Wacom graphics tablet. A few small tweaks to get the brown of his fur just right, and he was complete.