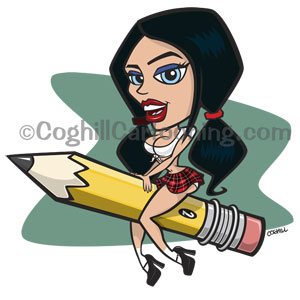 A new sexy cartoon school girl pinup has recently been added to my slowly growing collection over at MyPSPTubes*. This one was fun to work on. I wanted to play on the classic fighter plane nose cone art where the girls were straddling a plane (or a bomb!). I thought the number two pencil was perfect. She was given glasses at one point for that sexy librarian look we all love, but it just didn't work with the overall design.
This was once again another piece where vectors came to the rescue. As usual, the final art was completed in Adobe Illustrator. I had created this so all the elements of the face, and the head itself, are separate items. This allows me to resize and reposition things even after the line and color have been inked/vectored.
I think the final art came out good, and am looking forward to work on more pinups in the future as time permits with other ongoing commission work.
*UPDATE: I am no longer licensing my artwork via MyPSPTubes. But the sexy schoolgirl will be available shortly at my online store over at Zazzle.com. I'll update this page and drop a new post when school's in!