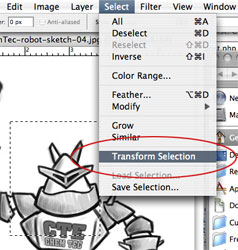 So you've just made a selection in Photoshop using the Marquee tool, but you didn't start in the right place and one of the corners isn't covering part of the area you want selected.
Yeah, you could try to place your cursor oh-so-perfectly right near the area in question and try to drag another rectangular marquee selection (using the Shift key of course to add to an existing selection). But why doesn't Photoshop just give you interactive resize handles for the selection?
Turns out you can do this, but you need to go to the Selection menu and choose "Transform Selection". Bingo. Maybe this is a pointless tip, but I have struggled with this for years in Photoshop, and I feel kind of dumb just finding this now. But it's useful, and I pass it on to those in the same boat as I used to be.