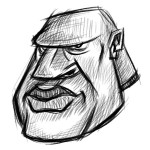 Cartoonist Mike Foran has a couple of cool number 2 pencil Photoshop brushes – free to download – that I stumbled across the other day. For some time now I have been on the casual lookout for a Photoshop brush that mimicked a regular-ol' number 2 pencil. Seems Foran was on that line of thought as well.
Foran's brush has a nice line quality, varied from thick to thin based on your Wacom tablet pressure, and has a slight angle similar to a flat-worn pencil tip.
The brush also has a nice light feel at light pressure, and darkens quickly with pressure added. The texture and look of the brush marks/pencil lines is perfect.
Being kind of out of the loop on how to create one's own Photoshop brush, I usually try out or use what other's have created and kindly offered to the rest of us. Sometimes the sheer amount of options in creating a brush just overwhelms me.
I have also created an inverted version of this brush so that the brush cursor is a circle instead of the texture shape in Foran's brush. You can download the alternate version of the Photoshop pencil sketch brush here.
I made a point to analyze how this brush was built so I could get some sense of what was going on here. I think I have a better understanding, but I am by no means a 'brush guru' of any sort.
Here's an enlarged view of the quick sketch I worked up using this brush. I like how the line quality actually brings out a different personality in my sketching: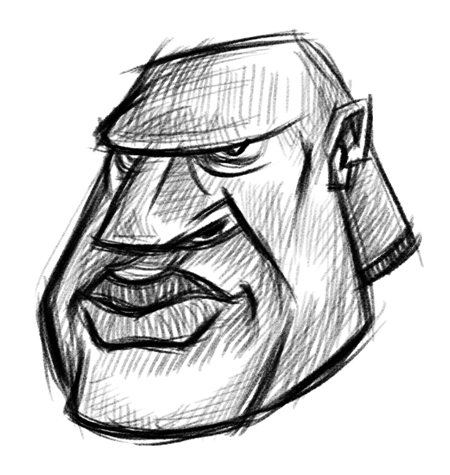 Be sure to check out Foran's post for a much nicer "pencil sketch" of Frankenstein's monster using his own brush.
Â