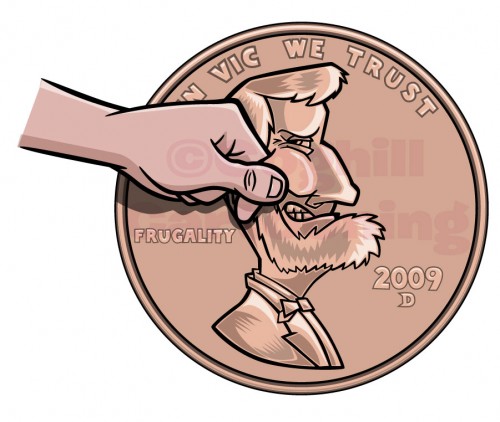 The "Penny Pincher" custom cartoon illustration was created for retailer UncleVic.com is featured in their current video ad, "Don't Tell Everybody!" as part of their "Don't Tell Everybody" Thanksgiving/Black Friday advertising campaign. The artwork will then be featured throughout Uncle Vic's main advertising & promotions after turkey day.
The "Penny Pincher" cartoon coin art was a custom variation on my Lincoln penny cartoon coin illustration.
A couple of small tweaks were also made to the art to brand it for Uncle Vic — note the "In Vic We Trust" slogan across the top and "Frugality" replacing "Liberty" on the left-hand side.
(Clicking the play button will jump to the relevant spot in the video where the artwork is shown)