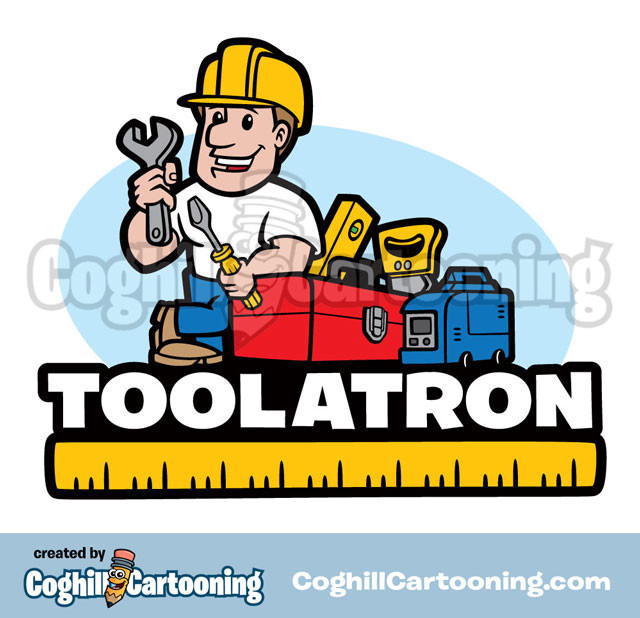 This cartoon logo featuring a contraction worker cartoon character surrounded by his toolbox and tools was created for tool supplier company Toolatron. 
A repeat client who returned to hire me for this project. The client was very specific as to what he needed to have created: a cartoon construction worker holding and surrounded by many classic tools to get the idea across that his company was a tool supplier.
The little blue box represents a power generator, which is one of the company's top sellers. I had some reservations that it wasn't very iconic, but the client insisted it was included.
I had the idea for the minimalist ruler below the text once I sketched out the lettering and realized that with such a relatively long word, we were going to need to bring focus to the text after illustrating all the elements requested by the client for the character and tools.
In addition to the main square-shaped logo, I developed and alternate horizontal logo for uses such as web page headers where the square logo might not work as ideally.

The final logo very closely resembles the initial sketches I created for the concept I had in mind, as the client was pleased with them early on in the sketch process.
Mostly, it was a matter of finalizing colors and details. We experimented with overalls vs jeans and a t-shirt, as well as some beard stubble, and various colors for the lettering and some of the tools and the toolbox.