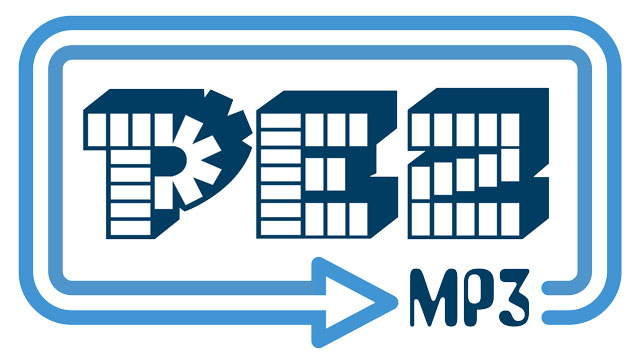 All my gadget RSS feeds are a-buzz with the news that the PEZ MP3 player is finally available, and the logo was designed by me. I'm partially, non-credited famous! Yow!
The guy who created this officially licensed PEZ MP3 player — which is actually a real PEZ dispenser that has an MP3 player inside — is a stay at home dad, and a nice guy as well. He started the project up as a hobby, and from internet buzz he started thinking, "What if…" and today it's a reality.

After seeing my Ratfink / "Big Daddy" Roth / Odd Rods style art and reading about my love of MAD Magazine, he felt I was the right guy for the job. The logo was designed with a bit of a nod to the era of toys that both the creator and I shared a love of when we were kids: Star Wars action figures, Atari 2600 video games, Odd Rods, Garbage Pail Kids trading cards, etc. The band around the PEZ logo is intended to echo the double lines around a Star Wars action figure blister card, and the super goofy digital "MP3" lettering was intended to echo those old Coleco hand-held sorts video games. Wow, back then it was all about a few red LED lights moving around on a black screen. I think they actually used that font!
The PEZ MP3 player is not a candy dispenser, just I suppose a music dispenser.
Oh, and this post appears before my "first" post because I changed the date to coincide with when that news actually came out…