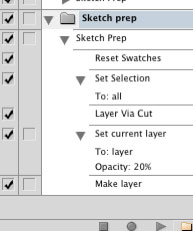 Here's a freebie for all my loyal readers: a free Photoshop action I created myself to eliminate repetitive tasks I (used to) go through each time I scanned in a new sketch for further work in Photoshop. Boost your productivity with this free Photoshop download.
My custom Sketch Prep action — as you can see from the screenshot — simply resets your color swatches back to the default black/white, does a Select All on the background layer, cuts the image to a new layer (leaving you with a flat white background layer) and then bumps the opacity of the newly-created layer down to 20%. It then adds a fresh new blank layer for you to start drawing in.
Typically when scanning artwork in, I scan just roughly sketched concepts and use the power of Photoshop layers to refine the sketch. This is why I bump down the opacity and work on a new blank layer.
I also like to have a flat white background layer so it simulates working on paper, but the actual sketching itself I want to be on it's own transparent layer to making potential copying & pasting easier.
Installation is simple: download the Sketch Prep action file (right-click the link and do a "Save As…") to your hard drive, open your Actions palette in Photoshop, click on the fly-out menu (in the top-right corner of the palette). Navigate down to the menu item that reads "Load Actions" and in the resulting dialog box, navigate to where you saved the downloaded action file. That's it! Now it's a new folder in your Actions palette and ready to help you create your next masterpiece.
If you find this Action useful, or have any tips to improve on it, I would love to hear about it in the comments section below. Enjoy!