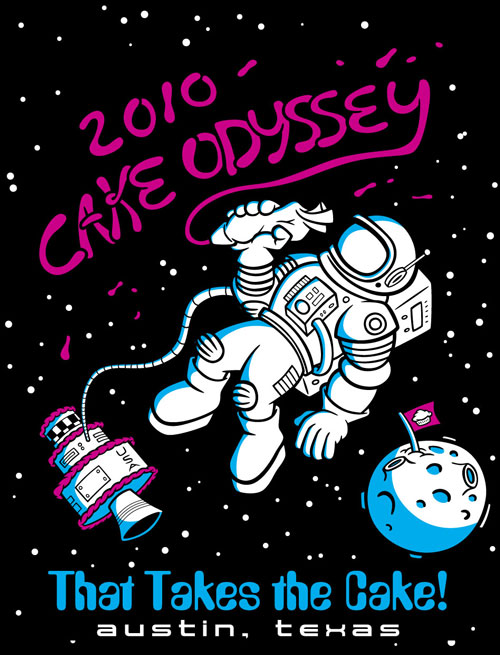 This cartoon astronaut with a cake spaceship was a fun t-shirt design. It was created for the annual Houston, Texas cake trade show & expo "That Takes The Cake!" hosted by Capital Confectioners.
The project was relatively straightforward: the client approached me with the theme of this year's show: "2010: A Cake Odyssey" with the requirements that there be a space capsule in the form of a cake, and that a planet be included with a cupcake on the flag. An of course an astronaut!
Immediately I thought the astronaut should be holding a frosting dispenser which he would use to write out the name of the event across the blackness of space.
The client loved the concept and the rough sketch is pretty much exactly what you see here in the final.
This was a 3-color t-shirt design, to be printed on black t-shirts. The magenta for the frosting was a must, and the blue shading worked pretty well and gave it a "frosting" feel overall.
I was told by the client that the artwork & t-shirts were a huge success and sold out! Always great to hear.
I also used the vector art for the illustration for a web banner for their site to theme it for the event, and it was used on the signage throughout the show:

Needless to say the client has already asked me to design the shirts for next year's event. Far out, man!